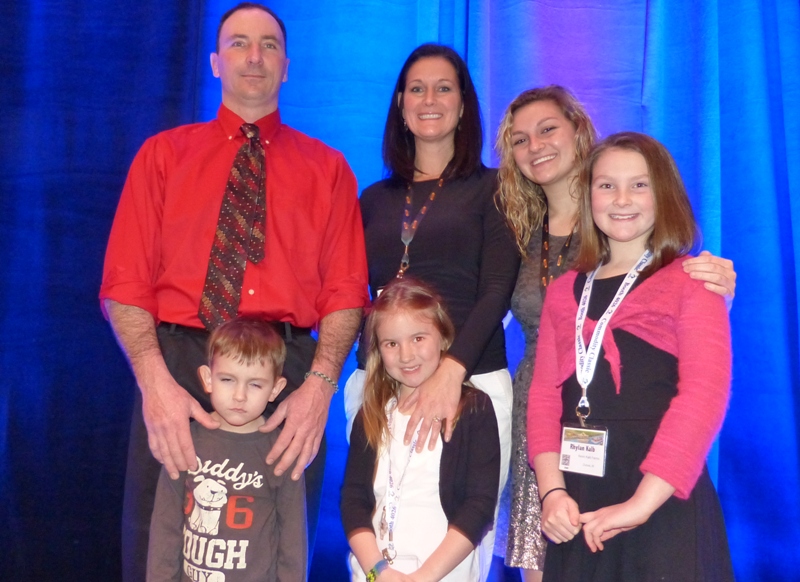 The 54th National Corn Yield Contest is the National Corn Growers Association's most popular member program, and it sure is a favorite for Kevin Kalb from Dubois, Indiana. He is a national winner again, and this year it was a family affair with both his wife and step-daughter also winning.
Kalb's DEKALB DKC67-44RIB yielded just over 388 bushels and went first place nationally in the AA Non-Irrigated category, and his step-daughter Nikia Kalb grabbed third place in that same category.
DEKALB-Asgrow technical agronomist Matt Parmer says winning is the combination of a lot of things, but "you've really got to give most of the credit to the farmer. It requires so much intensive management to be able to maintain that kind of weight on an ear and to get those many plants out there and get them to really produce. It takes the environment, it takes some luck, but management tops everything."
NCGA says the yield contest is a great way to get farmers involved in their organization, but Parmer adds every year Kalb learns valuable lessons out in the contest fields.
"Whether it's a 2×2 starter on both sides of the row, or the pop up, or the timing of the fungicides," he told HAT. "One of the things he's gone to is a lot more spoon feeding of the nutrients to make the crop a lot more efficient and to really get especially nitrogen where it needs to be. So, he's spent a lot of time on tissue testing and following that crop and really babying it through every stage, from planting all the way through harvest."
The Kalbs will be honored again at Commodity Classic in Orlando in late February.
Kevin's wife Shawn Kalb landed first place nationally in AA No-Till/Strip-Till Non-Irrigated, yielding just over 343 bushels with DEKALB DKC70-27RIB.
At the state level, Kathy Little of Hebron in northwest Indiana finished third with a yield of just under 323 bushels.
Article: https://www.hoosieragtoday.com/Kevin-Kalb-top-corn-yield-contest/
By Andy Eubank – Dec 18, 2018